Sarah's Note: Increase your enjoyment of this special blog by clicking on the captions under the pictures. You can view all the comic panels at full size!
Nick: I have you to thank for getting to read the Second Doctor's new adventure on the comic strip page. I've no idea where I would get Prisoners of Time in the UK otherwise, beyond the First (Doctor's) issue. So thank you!
Sarah: You're welcome! The IDW Doctor Who comics are a very rare occasion where something Who-related is generated for and only available regularly to the American market. We've got two strands here: the new, modern Doctor Who comic (which started with David Tennant's Doctor), and Doctor Who Classics, which is made up of collected and colored strips from the early DWM days. I have the first few issues of Classics, which presented "The Iron Legion" and "City of the Damned" and so on. They're really nice.
Nick: My local library (in South London!) had the first collected set of reprints. I was dead excited to see that – the new colouring looks great, especially for the wonderful Steve Parkhouse era, which really deserves to be in technicolour. The only problem is that everything's reduced down to fit on the page, so you give yourself the worst headache just trying to follow the dialogue. The Panini reprints have the edge, of course. But it's fantastic that these stories are being reissued for a new audience. The Marvel comic authors did an amazing job of capturing the Doctor's character – and the ethos of the show – and then scaling everything up a hundredfold. That's difficult to do.
Sarah: Just thinking about those great hi-tech, no-holds-barred Steve Parkhouse comics reminds me of my own history with Doctor Who in comics. When I was a teenager I had to travel to Baltimore, Maryland a couple of times a year to see surgical specialists and the like. They weren't the nicest trips, but one real perk is that Maryland Public Television was one of the last few markets in the USA to show Doctor Who – once a week, late at night on Saturdays, in movie format. And this was sponsored by Geppi's Comic Shop. Well, I used to visit Geppi's in the Inner Harbor, and I would find these wonderful issues of the 1980s Marvel comic. You didn't have this in Britain, but it was a comic that ran for about two years, running colored versions of the DWM Tom Baker and Peter Davison strips (and sometimes, the monster-only "backup" strips). And Dave Gibbons did brand new covers for them, which was wonderful. (Intriguingly, IDW used those same covers for the recent Classics reprints, and often used the '80s coloring as inspiration for the better, subtler 2000s colors.)
I loved those comics, and later, I enjoyed the dozen or so issues I found of the British Doctor Who Classic Comics, which reprinted first, second and third Doctor strips from TV Comic and TV Action. So it's no real surprise that I'm always trying Doctor Who comics in case I find something I like.
What kind of history do you have with Doctor Who comics, Nick?
Nick: Like you, I got into Who in the so-called Wilderness Years, so I read everything I could get my hands on. That meant back issues of DWM, new issues of DWM, the occasional issue of Classic Comics (for some reason I rarely saw it on the shelves – and I only had limited pocket money in those days), and even some of those '80s Marvel reprints you mention. Like all my experiences of Doctor Who, it was a higgledy piggledy experience, entering stories halfway through and leaving them unfinished, zig-zagging back and forth in time. It was wonderful, though! Admittedly, for a while the weak point in all this cascade of paper was the DWM comic strip – perhaps because it was so retrospective, like the Missing Adventures of the time. It's great that we got new Pertwee, Troughton and Hartnell comic stories, but at the time I found them unsatisfying. The McGann strip, with Izzy and Fey, is a completely different matter – it felt current, unpredictable and fun, and it's a central part of 'my era'.
Sarah: Oddly, I really didn't go for the McGann strip at the time – I gave up shortly after the end of that first arc, with the Threshold defeated. Having gone back to them, with the Panini graphic novels, I've found I have a much more positive view now – although I think I still prefer a lot of the storylines that came afterward, including the ones with Kroton and Destrii.
Still, no matter what you think of those late '90s and early 2000s strips, it's a bit of a shock to go from those to the very disposable stuff that came in during the first couple years of the new series. A lot of it felt little-kiddie in a way I didn't find particularly interesting, although I'm led to believe the DWM comic started to improve in leaps and bounds once they could give Tennant original companions.
Nick: It must have difficult, in the early days of the TV show's return, everything on a knife edge. But fortunately the Magazine had such an amazing heritage to look back to - with the Fourth Doctor and, like you say, original companions - that sooner or later it was going to find its own rhythm again. It still feels to me slightly stifled by the TV show, in a way that the Izzy comics never had to worry about - though I think they capture the Doctor a little better. Izzy, Fey and Destrii are the people I remember from the Eighth Doctor's era. He just wasn't a very 'cartoony' Doctor. But he was turned into a vampire, and then regenerated - neither Marvel or IDW can do anything like that!
Sarah: The IDW comic, especially, has felt a bit thin – and it doesn't help that IDW is a company that exists totally on existing licenses like Star Trek and Transformers. At the end of the day, they're pretty cheap. Often the covers to their issues are far nicer – and by totally different artists – than the pages inside. That probably reached its nadir with Assimila

tion
²
,

the Star Trek: The Next Generation crossover, which boasts some of the worst comic art I've ever seen. It's like looking at badly Photoshopped publicity photos.
In sharp contrast – and startlingly, because it comes from the same team of writers - Prisoners of Time is the first Doctor Who I've seen from IDW that feels new and fun and celebratory, which is interesting, because I think Tony Lee's Tennant comics dropped in bits of continuity all the time, and the miniseries event The Forgotten tried – but basically failed – to do a "Ten Doctors." I think this one works for me because it is so simple: one issue for each Doctor, each with a contained story, each ending with the Doctor lifted out of time. Is it going to be a hugely intellectually-satisfying story at the end? Probably not. But it's very fun.
Nick: I agree. On the basis of this second issue especially, I'm looking forward to seeing what the other Doctors get. I think I would have had a lower opinion of the whole series on the basis of Issue One – it was diverting, and I liked the artwork (nobody looked like they were supposed to, except the monsters, but that's Doctor Who comic strips for you – a fine tradition to uphold) but the pacing was bad, and the story pretty facile. This was a big improvement for me, how about you?
Sarah: Well, I actually got ahold of and read the second Doctor issue first – and I bought one for you, too – so I was a little confused when you reported back how you didn't really like the first Doctor one. I agree, the Hartnell one is much weaker, and that's not necessarily a statement about the art, which is off-model but better than a lot of IDW comics. I think it's more to do with the even more constrained story – since the Hartnell issue has to set up the overall threat, it's a few pages before we get to Hartnell and his companions – and a very out-of-character solution. I like the ones we've seen since then (Troughton, Pertwee, and Tom Baker) a lot more.
Nick: I must say, overall it was still somewhat unsatisfying. Once again the pace was especially at fault – something the Second Doctor seems associated with, now, for me. Time was wasted on establishing the setting, and frankly I've seen the 'world where you can buy anything' done more than once in Doctor Who before, and better. But there are a couple of nice twists, and the Doctor's using Jamie as bait feels faithful to a more interesting version of the character portrayed on telly.
Sarah: I don't disagree, really, although the setting finds a funny way to use the famous "Look at the size of that one, Doctor!" joke. I mean, at the end of the day, these are 22-page stories. They really can't go very far. The best they can do is present a sort of snapshot celebration of the era with the limitless visual budget of a comic, and in that regard, this delivers. You've got a classic team of the Doctor, Jamie and Zoe, all characterized individually if not remarkably; you've got monsters galore, including two from the actual Troughton era; you've got an alien world where the Doctor destabilizes an evil/controlling operation. That pretty much works for me. And you've got Lee Sullivan's art; I've always liked Sullivan's stuff, even at its most cartoony. It's straightforward, it's clean, it gets the job done. And admittedly, it very much comes out of that '80s style that found a balance between older, simplistic comic art and the more detailed and stylized stuff that started to come in more and more as the '90s approached.
Nick: In a parallel universe in which I am King of All, these stories would have been little pastiches of their respective comics eras. I think this is actually due to be the case with the Sixth Doctor's issue.
Sarah: Seventh Doctor too, actually. I believe I'm right in saying they're both being done by John Ridgway, who did all of the original DWM Colin strips and many of the McCoy ones. I would've killed for a fourth or fifth Doctor issue by Dave Gibbons, but sadly, 'twas not to be. (I would imagine he's just a touch too expensive.)
Nick: That's a shame – but great news about the Sixth and Seventh Doctors. I suppose there is more of a congruency between the TV show and the comic strip with the Sixth and Seventh Doctors – Ace always seems to me a 2000AD-style companion, and works well in ink (especially in "Cuckoo"), while "Voyager" is all the imaginative potential of Doctor Who unbound. Some people may look on this anniversary as a celebration of the TV show only, but the real beauty of Doctor Who for me is its many weird and wonderful alter-egos. Even the ones that feel wrong are indissolubly part of the story. Wouldn't you go for a Second Doctor story in the style of John Canning, with Zoe chucked in as a bonus – frenetic, brightly coloured, loose on ethics...
Sarah: Yes, that would have been great! And it certainly would have been possible, even without the original artists, to homage those early strips. DWM did a 40th Anniversary strip called "The Land of Happy Endings," in which Martin Geraghty created Neville Main-style art that paired McGann's Doctor with comic grandchildren John and Gillian. I would have loved all of these issues to go in that direction. There are hints of it, though: Mike Collins' art in the Pertwee issue includes several compositions that clearly reflect Gerry Haylock's Pertwee art in TV Action!, and the plot of the Tom Baker adventure seems to owe something to Pat Mills and John Wagner.
Nick: I adore "The Land of Happy Endings." It's one of the most beautiful comic stories the Weekly or Magazine has done, and probably its best use of colour artwork. The more overtly nostalgic material makes more sense in the context of an on-going narrative. Do you remember "Land of the Blind," the other big Troughton comic strip (published in Doctor Who Magazine in the 1990s, during their 'black and white' era)? I remember it jarred visually, because the monsters (the winner of a reader competition) were so 90s-looking. Now I suppose I can look back on that as ambitious, but like several of those 'past Doctor' comic strips, it seemed unremarkable at the time – featuring the second Doctor but not about him, as the very best Missing Adventures seemed to be.
Sarah: I do remember it. That one would have been in some of the first DWMs I ever read, around 1994. You would have sent them to me; the first one you ever sent featured the previous storyline, with Pertwee and Liz and the psychic assassin. I was probably a little bit more excited by those strips than you were, because at the time I genuinely preferred the Missing Adventures to the New (strong and recognizable characterization almost always being my preference in a Doctor Who story). I don't remember a great deal about "Land of the Blind," but the art was by Lee Sullivan again – and to my knowledge, it's the only DWM comic to ever be set in the second Doctor's era.
Nick: That seems a shame, given that the Doctor, Jamie and Zoe seem like ideal lead characters for a comic. It really gives this issue some immediacy. Even bearing in mind many readers won't even have seen "The Mind Robber" or heard "Evil of the Daleks," you know they're getting half an idea of who these guys are when they appear, and the other half on their first line of dialogue. They're uncomplicated and at the same time wonderfully odd. I suppose that means, conversely, the TV show in 1968/9 was becoming more cartoonish itself. Thank goodness it was well cast.
Sarah: Yeah, I think the Troughton crews are very well suited to comics, actually, because they're very distinct personalities. That's something that's really missing from those TV Comic strips of the 1960s, don't you think? I admit to never having read any of the Jamie strips, but John and Gillian are total ciphers. And Troughton's Doctor is a sort of grumpy action hero, half Hartnell and half Pertwee, apparently played by Patrick Macnee in a wig. I still have fondness for those old strips, though: Troughton with his utility belt and his laser gun, clad in purple check trousers. What do you think of them?
Nick: Having gone back and read a few, I have to say I find them extremely diverting as a perversely peculiar version of Doctor Who – and the wonderful thing about Who is that there's no reason these stories shouldn't have happened, the character has changed so many times that there's no reason he should have become a zany inventor with a ray gun, just for a while. That said, unlike (say) the stories in Hartnell's annuals, I don't think I'd enjoy them if it wasn't for their relation to the originary show. They're zany, it's true, but all the more so for seeing the Tenth Planet Cybermen behaving completely ludicrously, and the Quarks leaping about and squawking of their own accord (though it would have been a fabulous twist in their original stories if we found out Dominators Rago and Benylin were being telepathically controlled by their chirrupy little robot pals – they thought they were the villains but in fact they were just doing the leg work).
Sarah: I like the way you think! I've just been reading the first and second Doctor sections of Paul Scoones' excellent The Comic Strip Companion – buy it from TELOS Books if you haven't already, kids. It's a guide book to the old comics, as well as analysis and (some) behind-the-scenes info about storylines and communications between TV Comic and the BBC. One thing that's really jumped out at me is how bloodthirsty most of the Troughton strips are – and how much more bloodthirsty they were often intended to be before Peter Bryant or Terrance Dicks clamped down on them. Am I wrong in thinking that the outrageous cartoon violence is the main takeaway from these things? Can it be a coincidence that the major line you and I both seem to remember is "Die, infernal creatures, die" (as the Doctor shouts while gunning down a giant spider)?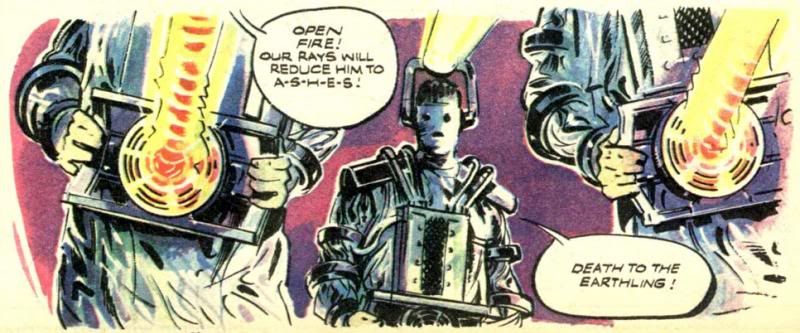 Cyber-Mole
Nick: It's an interesting perspective on how the show was perceived in the sixties: silly, adventurous, but bloodthirsty too. The story of the Cyber-Mole begins very atmospherically, with the Cybermen landing by night in the woods and tunnelling into the earth, but ends with the Doctor taking them by surprise and gunning them down...! I was also struck by the Doctor deliberately scattering a coven of witches, whose Grand High Witch (I think that's her name – or am I thinking of Roald Dahl...?) bedevils him with a giant crab and indestructible net. The Doctor and his companion fool the witches twice by shouting from behind some rocks, and there is some talk of how superstitious the witches are (but then, you think, they are real witches – therefore implying some version of Satan nearby – what a pity we never had that story). The Doctor – sorry, Dr Who – is a cartoon version of the might of science. I can't think (off the top of my head) of another comics hero with the same combination.
Sarah: Perhaps the best corollary I can think of the gun-toting, action man version of Sherlock Holmes who developed in the Basil Rathbone films of the 1940s: they're both essentially peaceful, intellectual characters who are made more violent in the face of "great evil." And you're right to say that we wouldn't even be looking at these comics if they didn't have the words Doctor and Who on them, and if we weren't sort of bizarrely fascinated by the twisted reality they present. Certainly, I never would have imagined Tenth Planet Cybermen on skis, Quarks armed with killer bees, or the exiled Doctor becoming a celebrity on the chat show circuit. It's a glimpse into a Doctor-Who-that-never-was, and thankfully, never-is except in these odd little stories! They're so outlandish they're actually endearing.
Nick: Next week we'll be discussing some more cartoon Troughton, in the form of Cosgrove Hall's animated reconstructions. Now I'm dreaming of a static reconstruction, done by Lee Sullivan (or perhaps Adrian Salmon?) passing across the screen. Like a cross between Loose Cannon and Jackanory. Wouldn't that be something?
Sarah: That would indeed be something. At this point, though, we're almost past recons. It's a bit of a relief, isn't it?
Nick: It is good to see Troughton, Hines and Padbury – and next week, Nicholas Courtney! – as they are really the living structure on which a very comic book world of space monsters is based.
Sarah: Fasten your seatbelts for a long one, everybody…